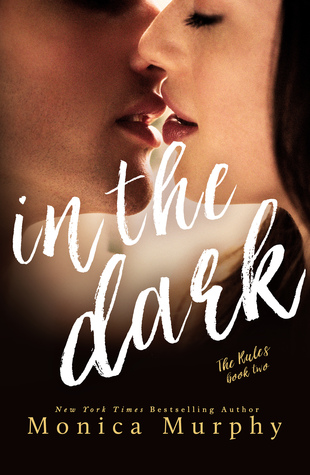 Book Title: In the Dark
Series: The Rules 2
Genre: New Adult
Author: Monica Murphy
Pages: 278 pages
Published: August 25th 2015
Purchase @ AMAZON ♥ iBOOKS

Stuck spending the summer with his screwed up family, Gabriel Walker is bored out of his mind and looking for an adventure. And he seems to find it with the hot girl who lives next door. The attraction between them is instant. Electric. Soon they're spending every stolen minute together. Talk about the perfect summer fling…
Lucy isn't what she seems. She doesn't live next door—she's the girl who's been hired to house sit for the summer while the family goes on a worldwide vacation. If Gabe wants to believe she's a spoiled rich girl looking for some fun, she can go along with that. After the summer, she'll never see him again.
They don't count on running into each other at college. Now Lucy must keep up the pretense of being a rich girl—and it's exhausting. She knows she's falling in love with Gabe and she's scared he feels the same. Will he still care about her when he discovers the truth?
---
My Review
---
Note: This ARC was given for an Honest Review.
Can I just say that I thought the first book was pretty intense while this one came on pretty sweet to me? I could not even measure up the difference of this book from the previous one and its a good kind of different, really.
The first time I read the excerpt and a few parts of the book immediately, my expectation was really low because I was pretty sure Gabe was described in the first book as a guy with 'a lot' of weight on his shoulder. I was expecting more of a drama on his side and don't get me wrong I totally got that but I was not expecting an amount of sweet nothings. These two people who come from different worlds, when they're put together they are pure bliss but when they're separated, I could definitely feel the sexual want and need. Especially on Gabe's part.
Gabe has a controlling parents and this year, for the summer, they are spending quality time near the breeze of the ocean. My first impression of him was that he was a clueless rich kid who obviously has a care in the world but hides behind his façade. I was right. He has a lot to get out off his chest but he just couldn't do it. Yeah, he tolerates his parents but, his treatment towards them is way past the respect they deserve. I like that he was really honest and that he knows what he's doing something good for him but, well, you know what they say, boys are idiot. You've got to learn how to distinguish a Boy from a Man.
Lucy is like every normal girl. She's far from fancy and she hasn't tried to be but, just this one time she made a decision she will because she likes the boy next door. Now, I thought she'd be like every other girl known to be around the block but she isn't, she's like a delicate flower but a tough one at the same time. Strong and determined on the outside but even she couldn't control the turmoil she feels on the inside.
Now Gabe and Lucy were really cute together and they were so sweet but I was expecting for Lucy to be the one to lure Gabe on the wild side but that wasn't how this book done it and it was even better that I expected. That first meeting after their summer escapade though is one hell of an awkward meet.
I laughed and I loved this book. I like that this book really wasn't trying too hard and isn't very rough for the most part and I love that it has every detail I wanted. I am a huge fan of Monica Murphy and I am so so so grateful I was granted to receive this ARC. I have liked most of her books before and I'm liking it even more now. I could not wait what she cooked up for Tristan!
READING ORDER:
Buy Fair Game (The Rules 1) @ 
Amazon US ♥ iBooks ♥ B&N ♥ Kobo ♥ Google Play ♥ Amazon UK ♥ Amazon CA ♥ Amazon AUS ♥
More About the Author


 MONICA MURPHY
New York Times, USA Today and international bestselling author Monica Murphy is a native Californian who lives in the foothills below Yosemite with her husband and three children. She's a workaholic who loves her job. When she's not busy writing, she also loves to read and travel with her family. She writes new adult and contemporary romance and is published with Bantam and Avon. She also writes romance as USA Today bestselling author Karen Erickson.